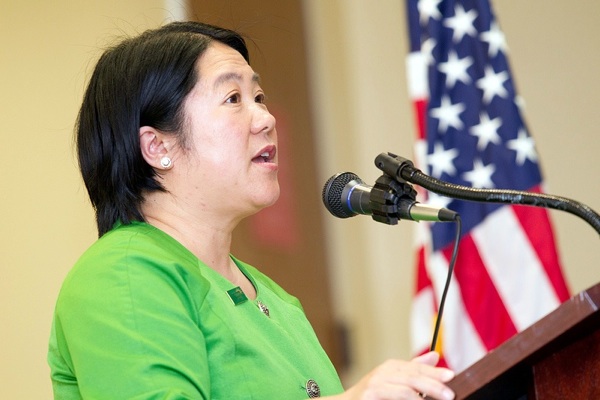 Last Monday, in what became a heated exchange with Sen. Jeff Sessions (R-Ala.), Mee Moua, executive director of the Asian American Justice Center, defended programs allowing families to immigrate together to the U.S. (Courtesy of the DOL)
From In These Times:
Today, despite the strides women have made in high-skill fields (most professional workers are now women), they are still heavily underrepresented in "guestworker" programs for professional immigrant workers, which skew heavily toward the vaunted, notoriously male-dominated science and tech (STEM) fields. For example, the controversial H1B visa program for professional temp workers, long touted as a spigot for STEM talent, brought in about 350,000 immigrant men but fewer than 140,000 women in 2011. Meanwhile, lawmakers are weighing proposals to sharply limit family-based visa programs–which make up about 65 percent of authorized permanent immigration–alongside plans for expanding the prized professional visas. As Pramila Jayapal points out at Colorlines.com, men tend to hold professional visas, intended to anchor household "breadwinners," while women are overrepresented among family visas, which can chain their legal status to an authorized (male) worker.

These biases are no political accident, but a symptom of the privileging of corporate demands over community needs. Immigrant women's labor, whether it's in the household, off the books, or on payroll, is fueling the economy. But because it doesn't seem to directly contribute as much to corporate bottom lines, it's overlooked.

Beyond the economics, a more fundamental, unspoken question lies at the heart of the immigration debate: Does Washington place a higher premium on capital or social equity? Any real conversation about the latter would be forced to begin with migrant women, who live at the intersection of multiple injustices. Though many male immigrant workers suffer labor abuses, gender inequality adds an extra layer of vulnerability to the working lives of migrant women.

Working-poor migrant women are concentrated in informal sectors such as cleaning and caretaking. Some low-wage jobs, like home health aides and other domestic workers, are virtually synonymous with "immigrant woman of color." Not coincidentally, those sectors have historically been excluded from critical federal labor protections, such as overtime pay and safety regulations. Jobs traditionally worked by women have not only been culturally devalued as mere "women's work," but also legally degraded by the Fair Labor Standards Act of 1938, which for decades categorically excluded women of color serving as domestics in private homes. In other sectors, such as industrial farming, women make up a significant minority of workers and endure myriad, hidden gendered abuses, from health disparities to sexual assault in the fields.

Marginalized by the law and the economic hierarchy, a migrant nanny might have virtually no recourse against a boss who sexually harasses her, fearing that she'll lose both her job and her visa status if she reports him. Or she might be pressured to stay with an abusive partner who threatens to have her deported if she tries to escape.
(h/t: Jessica Glynn)
(16)