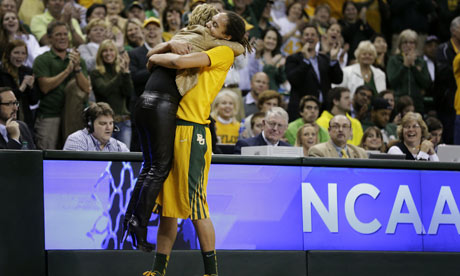 Head coach Kim Mulkey, left, is lifted off her feet by Baylor's star center Brittney Griner. Photograph: Tony Gutierrez/AP
From The Guardian:
These misogynistic jokes discredit Griner's ability to play ball with men by tapping into old sexist ideas that women are always less than men and that their specific space in this world is wherever men are not. The very act of getting on Twitter and saying misogynistic things about such a popular female sports star is an act of desperation. It means to set right the balance that was upset when Cuban floated the idea of allowing Griner to try out for the NBA.

With an irony not apparent to these commentators, the belief that Griner is "not manly enough" to play in the NBA is flatly opposed by the other offensive method people used to insult her: that she is a man. This is a classic transphobic trope, or a fear that her gender presentation does not "match" the sex she was assigned at birth. For example: "she possesses man parts, so why not?"; "Griner has a penis and would fit right in"; "She looks and sounds like a man." For much more, if you need it, in this vein, just check out the hashtag.

These transphobic jokes, like the misogynistic ones, devalue Griner because we live in a society that denigrates trans people in general and chafes whenever confronted by someone who does not fit into a neat box of "feminine woman" or "masculine man". Because athletes are seen as "masculine", female athletes, by being athletic, are no longer feminine.